Every year, Chicagoan's line up on Black Friday at their local grocery and liquor store to await the 8am release of Goose Island's Bourbon County Stout. Now, I would call myself a "beer enthusiast", in that, I like beer. Anything that's not an IPA, I'll give it a go.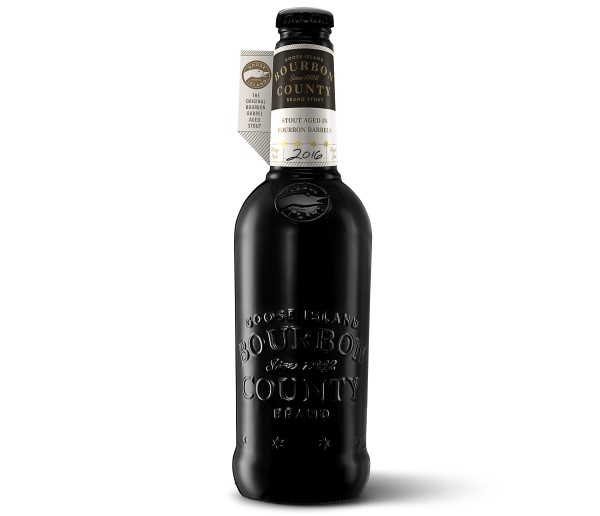 But do I love beer enough to stand in line for 1….maybe 2 bottles…the day after Thanksgiving…with a turkey hangover…in the cold? Absofreaking NOT. I once stood in line for what seemed like an eternity at 3 Floyd's Dark Lord Day, and vowed never to do that ridiculousness again.
So when I discovered that a local World of Beer was hosting a release later in the afternoon on Black Friday, I jumped on the opportunity to grab a few girlfriends for a Black Friday get-together.
The release wasn't until 4pm, but I was running early and didn't know what to expect. So my friends and I met an hour prior and when we walked in, we were pleasantly surprised to find the bar pretty empty. There were maybe 10 people already there, half of which I'm sure were not there for the Bourbon County. We informed our server immediately that we were there for the release and she assured us that at 4pm, we would have ours.
You were given the choice to either drink it there, or take it home. However, our server failed to inform us that we also had the choice to drink one AND take one home. At 4pm we were given our drinks, and at 4:25 when we asked if we were alloted a 2nd one, her response was "yes, but we're all sold out now". Epic fail World of Beer server! The bar never got remotely busy, so I'm guessing they had a very tiny amount to serve. Aside from what I'm confident the staff but aside for themselves.
This didn't damper our experience luckily. It took us nearly 2, yes TWO hours to drink that beer down! The Bourbon County was very heavy, and high in volume. I was glad I didn't purchase another $20 bottle to go, because the chances of me drinking it at home were pretty slim to none. Still, it was a nice tradition that my friends and I agreed to have started. Every year we promise to meet on Black Friday, later in the afternoon after our Thanksgiving hangovers have worn off, for some Bourbon County. OR whatever drink fits our fancy.
Now because we were there for 2 hours trying to take down the bourbon flavored, yet soothing concoction, we decided to stick around for another 30 minutes and await Goose Island's Barley Wine, that also is only released on Black Friday. This time, we took it to go. And we all promised to get together at a later date to drink it together, possibly during a game of Cards Against Humanity.
Until then,
xox,